If you are considering the possibility of investing in real estate, it is surely worth to consider purchase not only of an apartment, but also of a commercial object that may become a good financial investment while leasing it profitably in long term.
Currently sufficient number of high quality commercial objects are available in Riga, but there are very few purchasers in comparison with the apartment sector. It increases your chances of becoming an owner of a profitable object in a good location with good options to earn.
Artūrs Obrickis, real estate expert of IMMOSTATE points out that in comparison with the residential segment, relatively little information can be found on commercial properties in the public space and press, which might have created a wrong impression this far on a situation with these objects. It includes premises on the first floor for shops, cafés, offices, showrooms both in Riga centre and housing areas.
Advantages in comparison with purchase of housing
The specialist explains that a long-term leasing of a commercial object may be just as profitable or even more profitable than letting a housing. If the customer purchases a commercial object, it is much easier to agree on lease conditions, it is possible to change a lessee, lease fee, or to improve the condition of premises. Work with a lessee is generally easier, and cooperation is significantly more flexible. Litigation risk is possibly greater with a tenant of a housing if the premises should be vacated for various reasons, and increasing the price is more complicated. The commercial segment also facilitates keeping track of whether lease is on demand or not, and appropriate adjustments can be made, for example, dividing the premises in two parts.
Mr Obrickis said that the recommended commercial objects are such that have an easily leased commercial area: approximately 100 square metres in size, with display windows on the façade, a separate entrance from the façade, as well as ventilation. Such premises can become a good leased home both for a shop and a cafeteria. A significant advantage is provided if the object is located on the street of pedestrians. The long-lasting discussions on possible transformation of Terbata Street into a pedestrian street is definitely one of the reasons why very high lease prices have been retained there, especially in the beginning stage. The decisive factor in the success story of purchasing commercial properties may be also the placement of the building: whether the shop is located on the sunny side or shade, since in our degrees of latitude people much better prefer the sunny side, or if it is located near the bus stop, for example. Note that people move very differently within the boundaries of one block; therefore, the premises in the corner of the street cost much more than in the middle of the block. At the same time, if objects are not placed in 'top' locations they will be cheaper, and skilled planning of business can provide a good result. Many potential purchasers of the commercial objects wish to achieve this good result with premises that are safe and easily leased. That is why certain premises may be seen in the sales offer for a very long time.
What should be kept in mind when purchasing premises
Mr Obrickis points out that already an initial understanding of what business will be developed in the particular lease location and what will be the customer of the premises is very important. If it is a catering business, it should be noted what unique elements the particular location can offer, or what food will be offered in comparison with the "neighbours", what are the possibilities for parking cars in case of a restaurant. In case of shop premises, the possibilities of placing goods in the windows of the façade will be important. It should all be carefully considered when planning the leasing business. If a competitor is located next door, and he has thoroughly explored the advantages of the particular place, he will surely fare better. Then it is better to select more expensive and smaller premises, but such that at the same time allows development of various types of business: catering, provision of beauty services, hairdresser's, shop, etc. Such an investment will be somewhat safer.
Commercial premises should be appraised, just like apartments. It should be kept in mind that in a standard case the price fluctuations of a commercial transaction may differ from the price by plus/minus 10%. If the price shown in valuation is, eg, EUR 100,000, the property will be purchased for 90 000 or 110,000 Euro, not 150,000 Euro. So it is not really possible to overpay. Taking into account that most of the commercial objects are bought already with lease contracts, it is possible to find out from the lessees of what are the strengths of the selected location, what should be improved, and what are recommendations for the new owner. But if the property is bought without the lease contracts, the purchaser has a possibility to haggle over the price by stating that there is a greater risk, since there is no guaranteed income, and it will be necessary to find a lessee which will be ready to pay the requested lease fee. As a strength in a selection of a commercial object should be mentioned also the fact that when the old lessee leaves, the new lessee usually performs repairs on its own account (in case of an office the repairs are mostly done by the owner). Another good indication that the investments made into a particular real estate will pay off is that one set of premises has had a lessee for a longer period of time: for at least 5 successive years. Yet, in this case it should be carefully evaluated whether another lessee will have similar lease conditions if the current one would leave.
In his practice, Mr Obrickis has observed that mostly on demand are such premises that are already adapted for the needs of provision of medical services or cafeteria: a special floor covering, ensured access for people with special needs, ventilation without which provision of high-quality services is unthinkable. "Even when the current lessee leaves such premises for some reason, the new lessee will arrive within a month," concluded Mr Obrickis, adding that such specially adapted premises are on demand not only in the centre of Riga, but also in the housing areas.
A good moment for sale because there are purchasers
The specialist points out in relation to sellers of commercial objects that it is a good moment to sell premises since there are purchasers: the activity of the local purchasers can be felt already for a year and a half at least. The locals buy commercial real estates the purpose of which is further leasing, and usually are willing to look at a purchase within the boundaries of EUR 100,000 and 400,000. When acquiring a commercial object for the operation of your business the amounts are less imposing: from EUR 50,000 to 200,000. When thinking of acquisition of an office for their needs, the companies examine the real estates even up to EUR 500,000. One of the reasons that has hindered a more active performance of transactions is that different information on market possibilities exists among the purchasers and sellers. The purchasers will always appreciate good properties: a good location, a safe and stable lessee; it will be much easier to sell such a property. Of course, not all objects are equally good, and it means that some will be more difficult to lease in case of a high price, bad location, large basement area, bad building, no opportunity to park cars, etc.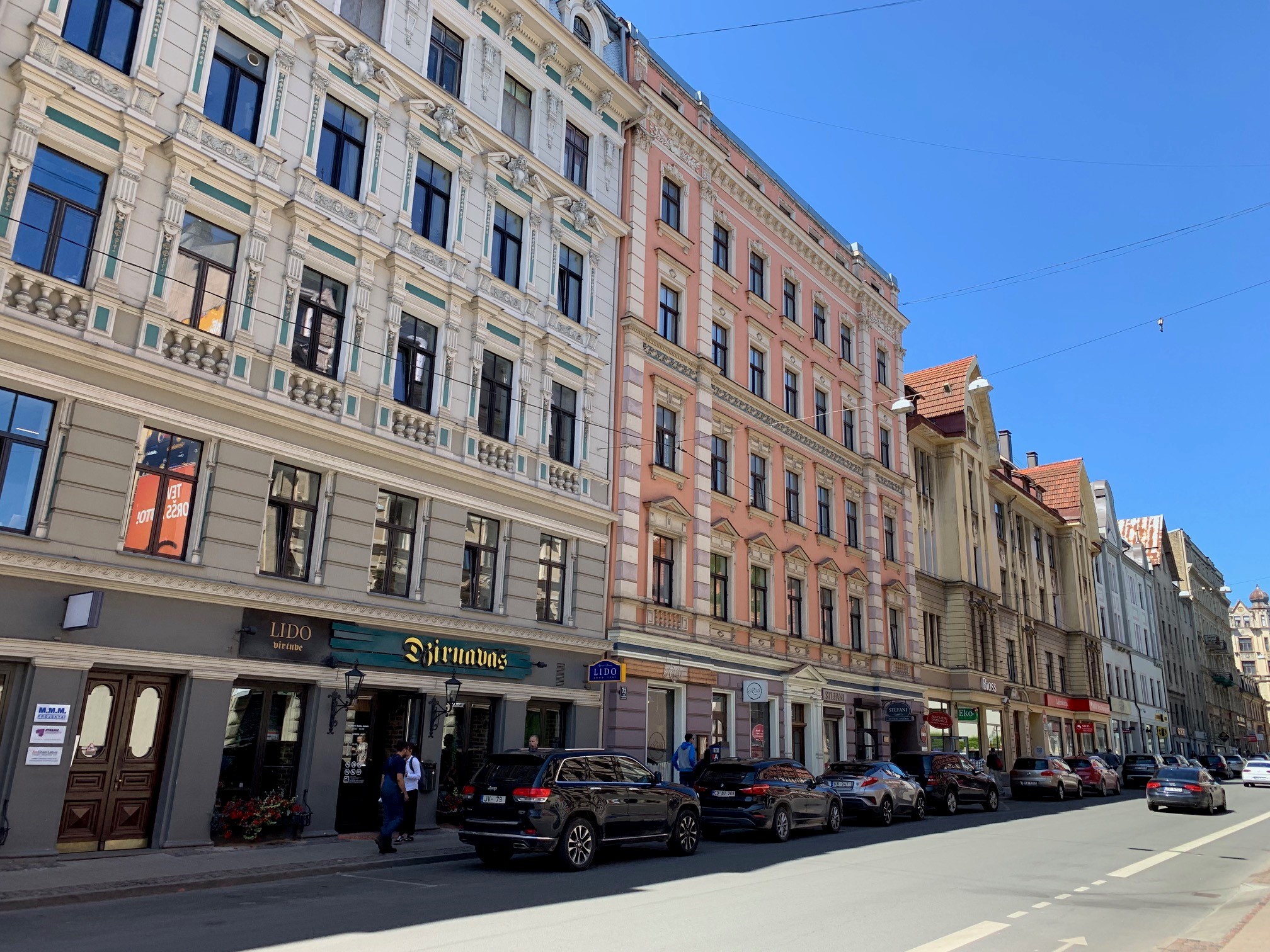 A person who is not a specialist might find it difficult to assess these aspects; therefore, Mr Obrickis invites people to consult with the real estate experts to learn of how appropriate might be the particular object, and what could be its real sales price. Looking from the viewpoint of a purchaser, the strength is the fact that there are not many good purchasers because many need to take a loan at the bank, and it is not always accepted, narrowing down the circle of potential buyers. There is also a lack of such purchasers that are aware of the market situation and are ready to make a decision for acquisition of a commercial object. Mareks Gurauskas, Head of Luminor Small and Medium Enterprises Segment states that this far applications to the bank for acquisition of commercial objects have been comparably few. It might be explained by the fact that such a type of investment is comparably large, and companies carefully consider whether they can afford it. Cafeterias, beauty parlours and providers of other services usually lease the premises instead of purchasing them. The amount of the first instalment for acquisition of such a commercial object depends on several factors: customer's history, location of the object, condition and type of use of the object. However, usually the minimum amount of the first instalment is approximately 25-30% of the transaction price.
The market of commercial object transactions in Riga has not been sufficiently appreciated this far due to lack of information and specific knowledge; however, it might become a good type of long-term investment in case of thorough research and in consultation with the experts.
2019.09.3